The IFN is a growing network of professionals working as Independent Facilitators and Person-Centered Planners. We invite you to join our group to explore how our community has solved problems, found interesting resources, and helped the Self-Determination Program take shape in California.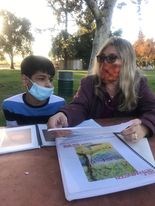 It is our hope to elevate the quality of Person-Centered Planning processes and support of self-determining participants through best practices, ongoing education and the support and free exchange of ideas with other professionals throughout the state.
3 Reasons to join the IFN
Further your professional development amongst peers
Connect with other IFs to build your personal network
Engage in discussions that drive improvements in IF services
What our Network is saying
"Since joining the IFN, I have gotten a better understanding of how my role as an Independent Facilitator fits in."
"When I joined the IFN, I was uncomfortable with building a spending plan but now I've seen great examples and heard from others about their approach."
"There is probably no better repository of expertise and professional support in the state of California for Independent Facilitator's than the message boards of The IFN"
The Independent Facilitator Network Mission
At the Independent Facilitator Network (IFN), our mission is to provide education, advocacy, support and improved outcomes for Self-Determination Program selectees, Independent Facilitators (IF) and Person-Centered Planners.